Hexenserien Witches Movies Playlist
Witches of East End News 2019
Der US-TV-Sender Lifetime hat eine zweite Staffel zur Hexenserie
Witches of East End in Auftrag gegeben.
Gute Bewertungen und ein zunehmendes Zuschauerinteresse waren der Ausschlag.
Im Durchschnitt drei Millionen Zuschauer.
Die Hauptzielgruppe sind Frauen von 18-54 Jahren.
Beste Hexenserie bei Netflix.
Chilling Adventures of Sabrina
Die neue Netflix-Serie Chilling Adventures of Sabrina wurde heiß erwartet:
Pünktlich zu Halloween ist die düstere Teenie-
und Hexenserie am 26. Oktober 2018 auf Netflix erschienen.
Bisher sind die Kritiken für die neue Serie überragend,
es gibt einhelliges Lob.
Neuste Hexenserien 2018 / 2019 gehe hier zur
neuen schnellen Seite Link:
Die mysteriöse Zeit der Rauhnächte
Info Link:
Rauhnächte Hekate-Nacht Youtube Info Link:
07:40 Skyrunners
09:00 Der größte Magier der Welt
10:35 Zwexies – Die Zwillingshexen
12:05 Halloweentown III: Halloweentown Highshool
13:30 Hellphone – Ein teuflisches Handy
15:00 Die Zauberer vom Waverly Place
16:45 Clockstoppers
18:25 Arthur und die Minimoys
20:15 Being Human Staffel 3
21:15 Buffy – Im Bann der Dämonen (2 Folgen)
22:55 American Horror Story
23:50 Charmed
Am 1. November – Allerheiligen
11:15 – 13:55 Sabrina Total Verhext! (8 Folgen)
14:15 – 17:15 Charmed (5 Folgen)
18:00 – 19:30 Ghost Whisperer (3 Folgen)
20:15 The Hole – Die geheime Falltür
22:00 Long Island Medium (5 Folgen)
Die Hexen kommen nach Stonehaven
Die zweite Staffel von Bitten verspricht jetzt schon ein echter Erfolg zu werden.
Angelehnt an die Bestseller-Bücher "Women of the Otherworld"
bekommt das Rudel es mit einem Hexenzirkel zu tun! TheStar.com
führte ein Interview mit Laura Vandervoort and Greyston Holt alias Elena und Clayton.
Die beiden verraten schon mal ein paar Details, wie es in Staffel 2 weiter gehen wird.
Info Link:
The Magicians
Staffel 1 Episode 6: Zum Scheitern verurteilt
Julia findet eine andere Randmagierin mit der sie versuchen will
mit Magie ins Safehouse einzudringen um so die Zauber von Marina zu stehlen.
Quentin, Alice und Penny müssen in Brakebills an Prüfungen teilnehmen,
die entscheiden, ob sie bleiben oder nicht.
Info Links: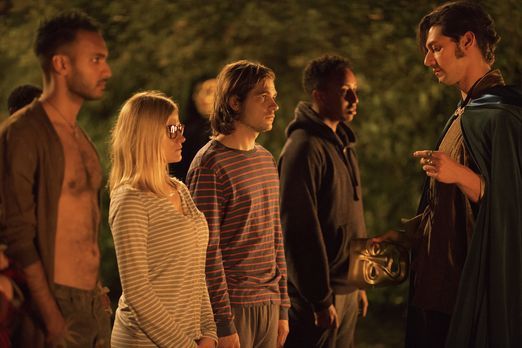 Ab 20. Oktober 2016 im Kino!
Ouija 2 – Ursprung des Bösen
Info Links:
Maxdom: Die besten Mystery-Serien
16 Resultate gefunden in der Film-Datenbank:
Hexen hexen

(The Witches)

1990
von Nicolas Roeg
mit Anjelica Huston, Mai Zetterling

Hexen

(Häxan)

1922
von Benjamin Christensen
mit Benjamin Christensen, Astrid Holm

Hexen von heute

(Le Streghe)

1966
von Pier Paolo Pasolini, Vittorio De Sica, Franco Rossi, Mauro Bolognini, Luchino Visconti
mit Silvana Mangano, Alberto Sordi
Witches Today
[640],shadow=true,start=,stop=